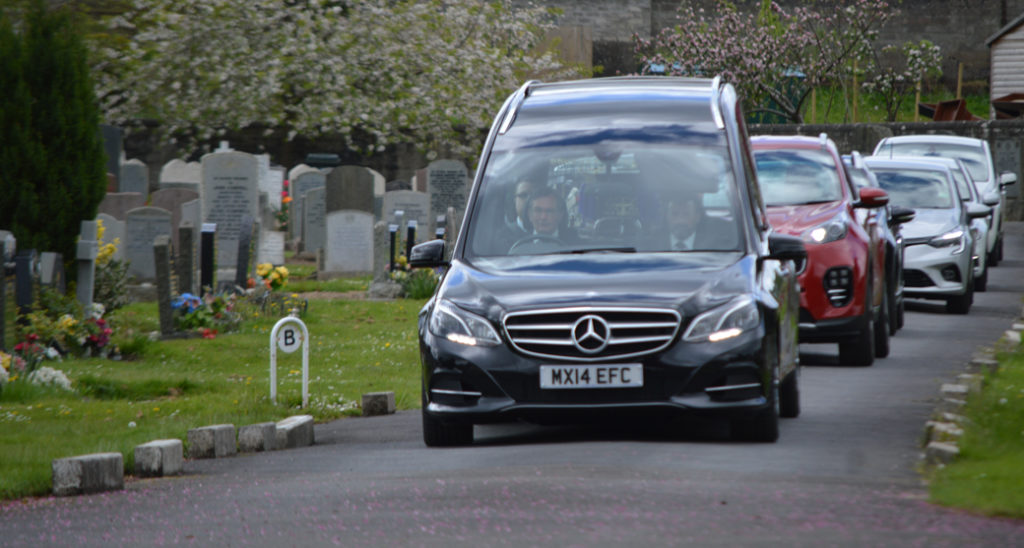 In recent days, priests across the Diocese of Dunkeld celebrated Mass in their own churches for the repose of the soul of Mgr Hendry, parish priest of St Mary Magdalene's, Perth, who died on Thursday 30th April. With churches being locked due to the present Covid19 pandemic restrictions, there were floods of prayers being offered on online Masses and through social media.
The private service at the graveside in Perth's Wellshill Cemetery, at 11.30am on Friday 8th May, was led by Deacon Charles Hendry, Mgr Hendry's nephew.
The numbers who were permitted to attend the funeral were limited to the immediate family, along with Bishop Stephen Robson, Canon Steven Mulholland (St John's, Perth), Mgr Martin Drysdale (St Fillan's, Newport-on-Tay) and Mgr Kenneth McCaffrey (Ss Peter & Paul's, Dundee).
In his opening remarks, Bishop Robson paid tribute to the popular Perth priest who was clearly well loved throughout the city in which he had made his home. He was very determined to die 'with his boots on' and out of the 65 years of his priesthood, forty-five of them were in the city of Perth – 38 in the parish of St John the Baptist.
"He was a priest to his finger tips," said Bishop Robson. "He had a tremendous pastoral sense and love for God's people. He really did serve all the people, particularly the sick and housebound."
On behalf of the family, Deacon Hendry gave thanks to all who had cared for Mgr Hendry during the last few months; "to the doctors and staff at the GP practice in Perth, to the Macmillan nurse and the staff, doctors, nurses and auxiliary staff in Ward 4 and Ward 6 at Perth Royal Infirmary. If he couldn't be at home he couldn't be in a better place than to be in his beloved PRI."